Lucy Family
Members of this cow family include:
Foundation Female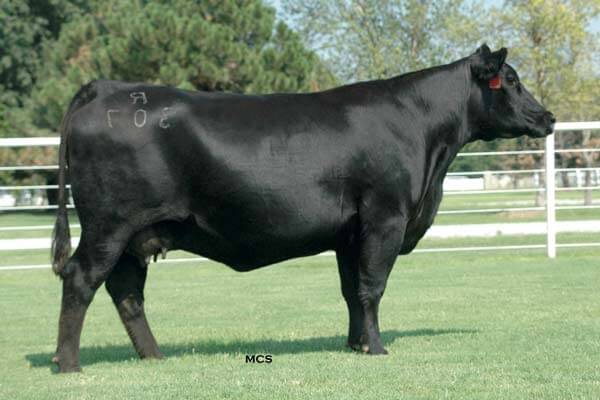 Pictured is Basin Lucy 804N, Dam.
Basin Lucy 0T20 was selected in the historic Basin Angus dispersion to add another productive and proven cow family to our breeding program. She is a daughter of 263C and out of the $360,000 valued Basin Lucy 804N who served as a donor for Express, Basin, and Southern Cattle Company. She is a powerful female that is exceptionally feminine and has a perfect udder. Her strengths are calving ease, feed efficiency, and carcass quality. She has been exceptionally productive in ET and has impressive progeny by Pioneer, Confidence, Complete, and Capitalist. Half interest in her natural calf by Complete was selected by Rick Nemeth. Watch for progeny by Pioneer, 10X, SAV Harvestor, VAR Generation, and other proven sires in 2014 and beyond. Owned with Thorenfeldt land & Cattle Co.
Basin Lucy 0T20
Calved 03/30/07 • AAA +16104246[NHF]
# Bon View New Design 1407 [DDC-AMF-XF]




# EXAR 263C [AMF-CAF-XF]




Exar June C 3577 [CAF]

# B/R New Design 036 [DDC-AMF-XF]
Bon View Pride 664
# BR Midland [AMF-CAF-XF]
PAF 9611 6I6 1161 [CAF]

# C A Future Direction 5321 [AMC-NHC-XF]




+ Basin Lucy 804N [NHC-AMF]




Basin Lucy 178E

# G A R Precision 1680 [AMC-NHC-OSF]
C A Miss Power Fix 308 [AMF]
# Basin Max 602C [AMF-CAF-XF]
# Basin Lucy 855A [CAF]
As of 04/23/2019
Production
CED
Acc
%
BW
Acc
%
WW
Acc
%
YW
Acc
%
RADG
Acc
%
DMI
Acc
%
YH
Acc
%
SC
Acc
%
Doc
Acc
%
+15


.33


1%
-1.6


.49


3%
+46


.44


55%
+78


.40


65%
+.13


.16


90%
+.26


.16


65%
+.6


.53


30%
+1.04


.50


25%
-9


.46


95%
Maternal
HP
Acc
%
CEM
Acc
%
MILK
Acc
%
MKH
MKD

MW
Acc
%
MH
Acc
%
$EN

%
+7.4


.18


90%
+17


.36


1%
+38


.39


1%
8
10

+33


.23


40%
+.8


.24


5%
-21.52

95%
Carcass
CW
Acc
%
MARB
Acc
%
RE
Acc
%
FAT
Acc
%
Carc GRP
PRG

Usnd GRP
PRG

+30


.37


55%
+.58


.32


35%
+.76


.36


10%
+.007


.32


45%
N / A


8
13

$Values
$W

%
$F

%
$G

%
$QG

%
$YG

%
$B

%
+59.86

15%
+27.38

70%
+41.61

25%
+33.85

35%
+7.76

10%
+110.36

45%