Primrose Family
Other members of this cow family include:
Foundation Female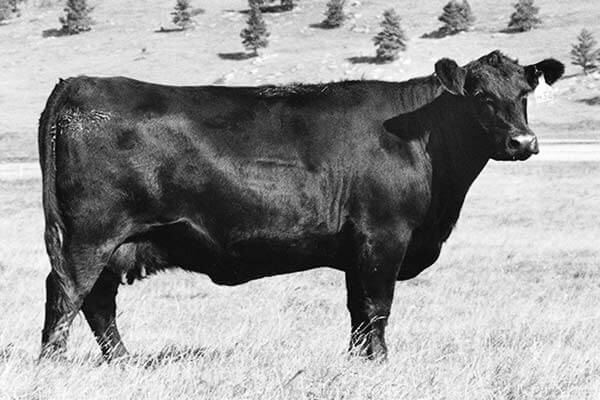 Pictured is N Bar Primrose 2424, Maternal great grandam.
BoBo Primrose 9625 was selected to carry on the legacy of EXT's dam, the great N Bar Primrose 2424. Her daughter Westwind Primrose DJH 353 possesses elite performance and carcass quality genetics.
Westwind Primrose DJH 353
Calved 09/14/13 • AAA *17618893[DDC]
#* Mytty In Focus [AMF-CAF-XF]




#* A A R Ten X 7008 S A [AMF-CAF-XF]




# A A R Lady Kelton 5551

# S A F Focus of E R [AMF-CAF-XF]
Mytty Countess 906
S A V Adaptor 2213 [AMF-CAF-XF]
+ H S A F Lady Kelton 504B [AMF]

#* G A R Predestined [DDC-AMF-XF]




+ BoBo Primrose 9650 [DDC]




Fox Run Primrose 6024 [AMF]

# B/R New Design 036 [DDC-AMF-XF]
#+ G A R Ext 4206
#* S S Objective T510 0T26 [AMF-CAF-XF]
+ V A R Primrose 4017 [AMF-NHF]
As of 04/23/2019
Production
CED
Acc
%
BW
Acc
%
WW
Acc
%
YW
Acc
%
RADG
Acc
%
DMI
Acc
%
YH
Acc
%
SC
Acc
%
Doc
Acc
%
+5


.35


55%
+1.7


.51


55%
+56


.45


25%
+106


.40


15%
+.19


.31


55%
+.47


.31


80%
+.4


.40


60%
+.80


.41


40%
+12


.37


55%
Maternal
HP
Acc
%
CEM
Acc
%
MILK
Acc
%
MKH
MKD

MW
Acc
%
MH
Acc
%
$EN

%
+9.7


.27


60%
+11


.33


20%
+21


.36


70%
N / A


+53


.36


15%
+.6


.41


15%
-6.27

60%
Carcass
CW
Acc
%
MARB
Acc
%
RE
Acc
%
FAT
Acc
%
Carc GRP
PRG

Usnd GRP
PRG

+33


.43


45%
+1.37


.39


1%
+.03


.39


95%
+.045


.35


95%
N / A


N / A


$Values
$W

%
$F

%
$G

%
$QG

%
$YG

%
$B

%
+46.94

40%
+67.42

15%
+50.64

5%
+53.76

1%
-3.12

95%
+130.11

25%